A portable case for storing crafting and model making resources and equipment. Designed around typical A4 cutting mats and the drawers from our storage system.
For transportation the cutting mat is restrained between the front board and the drawers.
The case is configurable using drawers from our storage system. Please use the instruction part of the order form to let us know which drawers you require.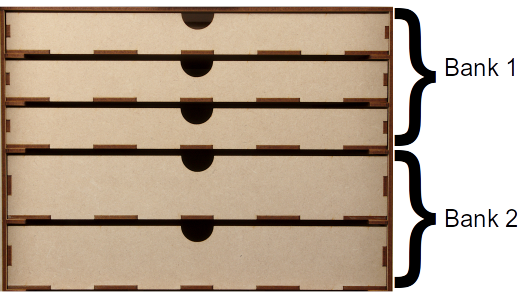 Bank 1 can be a set of either two or three drawers. The photo above shows Bank 1 configured with three drawers. Alternatively the bank could be configured as per the 2/3 drawer unit. The sets of drawers can be mixed, e.g. a three drawer bank could have one of each type of drawer or three plain drawers.

Drawer options for a three drawer bank or the smaller drawer of a 2/3 drawer bank are as per drawer one.
Options for a two drawer bank are as follows:

Bank 2 can be configured similarly to bank 1 or alternatively with one drawer from a two drawer unit plus six smaller drawers as shown in the photo below.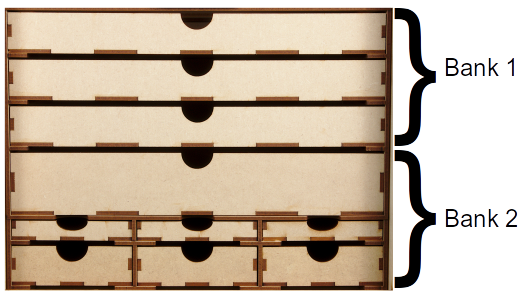 The case measures 320 x 250 x 276 mm (w x d x h).
The outer of the case is made from Birch Ply with the exception of the front board which is made from MDF. The internals are cut from MDF.

Tags: Travel Case, Portable